PBN: Five Questions With Melissa Sanzaro
Melissa Sanzaro | Executive director, Providence Housing Authority
1. What is the Providence Housing Authority footprint for housing, and how has that changed over the past 10 years? The Providence Housing Authority is the largest public housing authority in the state, managing more than 2,600 units of public housing and administering more than 2,600 Housing Choice Vouchers serving approximately 12,000 people. … In 2006, the voucher program served about 1,700 families and over an 11-year period experienced an increase of 58 percent in their program.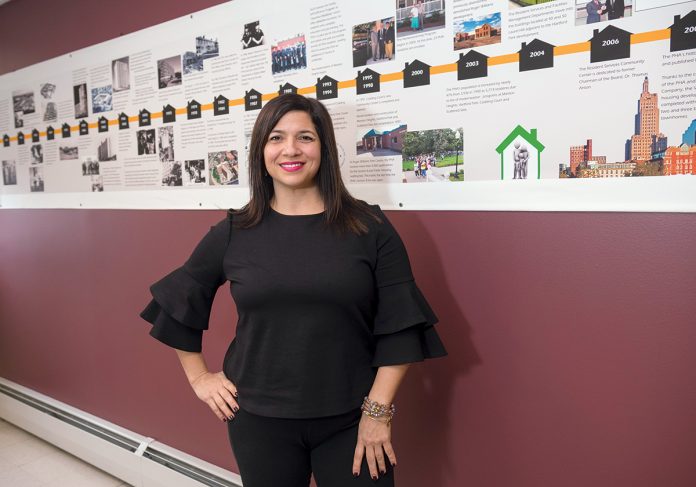 2. What are some of the other services the housing authority provides? Beyond the bricks and mortar, the PHA is proud of its extensive and unique resident-services department, which is staffed by 25 people that oversee more than seven core programs. The department works closely with other agencies to deliver important services to our community such as family self-sufficiency, financial literacy, homeownership counseling, employment services, case management and adult basic education, including digital literacy.
3. How has the profile of the person living in Providence Housing changed? How many families are seeking apartments? On average, women represent about 62 percent of our head of households, while nearly 60 percent of head of households identify as Hispanic. Twenty-one percent of residents served by the housing authority are disabled, the majority of which reside in one of our six high-rises. The average income for our residents remains steady at approximately $12,600 per year. In 2016, for the first time in 17 years, the PHA opened its waiting list for the voucher program, receiving 5,000 applications. In public housing, the waitlist has another 5,400 applicants.
4. What would you like to see the authority champion? This is an exciting time for the agency; a time to build on our past successes, re-energize community relationships and develop innovative and comprehensive approaches to provide viable and healthy housing and life-changing opportunities.
5. You previously were deputy director. What was your most challenging experience in that role? My biggest challenge was that of most leaders in public service: wanting to be everything to everyone who needs your help. It is difficult to face the inability to provide housing to everyone in need. … Our low- and extremely low-income families' need for affordable housing far exceeds what is available to them.
Article Courtesy of Providence Business News